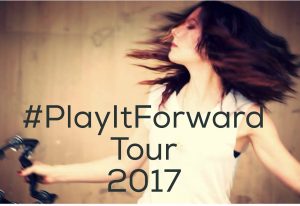 I was given a gift: Music. And I want to Play it Forward – play to connect, to inspire, to heal, and to cure. This summer I will be 4 years cancer-free. Through my work as an advocate for breast cancer awareness, I came across the Kay Yow Cancer Fund, which has already donated more than 5.38 million dollars to research, and towards trials that are desperately needed for those living with metastatic disease.  And they do this with only 7 employees, many of which I met last month in Raleigh.  Pink Ribbons and Awareness aren't coming close to solving the problem.  We need better treatments, and we need a cure.  The proceeds of my tour this year go directly to their cause, which is my cause and my passion: ending cancer.
I'm gearing up to kick off the "Play it Forward" tour (which benefits the Kay Yow Cancer Fund) on May 18th at La Mexicana in Gaithersburg, MD. I will be traveling all over the US through November to cities specifically chosen by my amazing FANS. We used the platform Road Nation to support the cause, which you can check out here:  https://www.roadnation.com/campaigns/94  The Campaign store is still open if you'd like to purchase a VIP or Roadie experience, or exclusive tour merchandise like postcards from the road or truck stop souvenirs. Purchasing items will help offset the costs of touring.
I'd like to thank everyone who supported me on #RoadNation to fund the Play it Forward Tour at 108%! Because you guys went above and beyond, I've extended my tour through Fall so that I can get to as many cities as possible that you've put on my map. If you are interested in hosting a House Concert, hit me up ASAP as my year is booking up fast.
SO excited to meet many of you on the road, and raise money for the Kay Yow Cancer Fund at each and every show. Big hugs to you all and thanks again from the bottom of my heart,
Cindy aka p-nut