I have a new musical baby…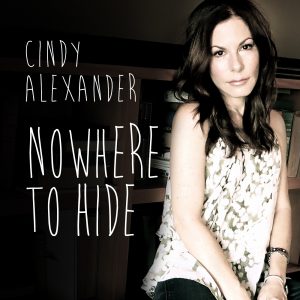 "Nowhere to Hide" is a stripped down, acoustic record. It was the first time that no one told me how to play, or how to sing. I was only told to stop thinking so much and just "do it." And almost every time I wanted to fix something, I was told "No."
The idea of this record originated from Kirk Pasich, founder and President of Blue Élan Records. He wanted to capture the raw, emotional connection of my acoustic performances that he'd been watching on stage for many years. The focus was to be on 1. me as an artist and 2. the songs, and not on production. Nowhere to Hide became a concept – the record was recorded live in single takes, where we played together in the same room. The only instruments involved were voices, a grand piano, acoustic guitars and dobro. Kirk set the stage, and allowed the musicians to do what we do best in an environment without restraints. Kirk was seeking the beauty of imperfection, not a slick production. Without a click track, the songs ebb and flow with emotion and honesty, and the push and pull of heartstrings.
There was a lot of love in the room. Everyone involved in this record is a friend, and is special to me. The relationships span the entirety of my career – from my first writing partner/band mate Paul Trudeau to my latest writing partner/producer Colin Devlin. To mix my past and present together in one room was a rare opportunity. Paul and Colin cover most of the tracks instrumentally and vocally, and we sprinkled the collection with appearances by my first producer, mentor and writing partner, Dave Darling, label mate superstar Janiva Magness, my touring sidekick and duo partner Ali Handal, my long time band mate Tina Trevino, my Blue Élan sister Scout Durwood, Randy Ray Mitchell – who I met when I first came on the scene and has played in my band over the years, Bernie Barlowe – who has graced some of my previous records with her gorgeous back up vocals, and a brand new musical collaborator, pianist Tyler Cash.
The songs were curated by Kirk in order to cover the span of my career. You'll hear some of old favorites from my catalogue, a few new tunes, and two covers which were suggested by fans on Facebook!
I recorded "Nowhere to Hide" summer 2017 at Clear Lake Audio and Fever Studios, with owner/engineer Eric Milos at the helm. I met Eric when I recorded Deep Waters at his studio and felt so strongly about his work ethic and talent, that I insisted he be involved. For the final sonic touches, we turned to Grammy nominated mastering engineer Emily Lazar.
"Nowhere to Hide" will be released worldwide on January 5, 2018! However, pre-orders start Tuesday September 19th and come with immediate delivery of FOUR tracks – 1 from the record, and 3 bonus tracks unavailable anywhere else. Everyone who pre-orders will receive their goodies just before Christmas.
Can't wait to share this very special record with you…. I'll be handing you my heart.