NEW MUSIC
Surprise, right!? Well, to those who are in the Pnut Gallery on Patreon, they have been following the process and hearing the demos over the last year.  The stars aligned and thanks to executive producer Kirk Pasich and KZZ Music (a production company spinoff from Blue Élan Records), I went into the studio last week with a dream team:  Paul Bushnell producing and playing bass (Tim McGraw/ Elton John/ Sarah McLachlan/ Sinead O'Connor/ Neil Young/ The Commitments/ Edna Swap), Zac Rae aka @grumpybeard on keyboards (Death Cab For Cutie/ Stevie Nicks/ Leonard Cohen/ Lana Del Rey/ Morrissey/ Ringo Starr), Dave Levita on guitars (Alanis Morissette/ Tim McGraw/ Dr. Dre/ Sara Bareilles/ Five for Fighting/ Sheryl Crow/ Lana Del Rey), and Thomas Lang on drums (Peter Gabriel/ Robbie Williams/ Glenn Hughes/ Falco).  Zackary Darling was behind the board engineering and is currently in custody of the tracks in order to mix! I just heard the rough board prints and they are wonderful!
I'm very excited to share these songs which run the gamut from modern singer-songwriter to indie pop punk. I'm bringing back some of the rock and quirkiness from my early days, but maintaining that sing-a-long quality and lyrics that are t-shirt worthy.  You will laugh, shake your bootie, and yes, there will a ballad to make you cry.  In a good way 😉 This group of A-listers truly elevated the songs.     (Pic below L to R- Kirk, Dave, Paul, Moi, Thomas, Zac and Zack)  Lots of behind the scenes videos on Patreon.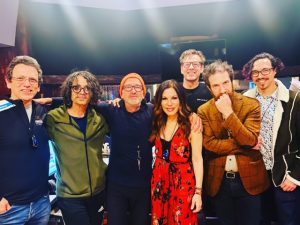 The "I Hope I Remember How to Do This" Tour:
In April 2021, my last CD "While the Angels Sigh" was released.  Unfortunately, all of my tour plans were canceled due to the pandemic.  So, I'm FINALLY gearing back up to lift the curtain and perform those songs as well as my new ones for a live – in person – audience!  I really hope to see you at one or more of these upcoming performances.  Singing for you keeps me sane. Sort of.
APRIL 30, HOLLYWOOD, CA  HOTEL CAFE 
MAY 13 – WASHINGTON, VA  BENSON HOUSE CONCERT 
MAY 14 – ROCKVILLE, MD  HANK DIETLE'S TAVERN
MAY 15 – MARTINSBURG, WV  ARLENE'S HOUSE CONCERT 
MAY 21 – CARMEL, CA  FOREST THEATER 
JULY 31 – CARMEL , CA   DE TIERRA WNERY TASTING ROOM
MY HAPPY PLACE
I live in my "Happy Place," so It's easy to NOT leave town.   My local walk "in the hood" is to places like this: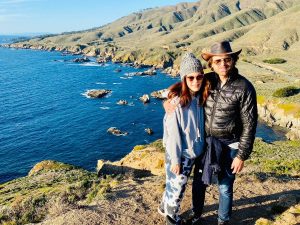 I can't wait for you to hear my new song "House without Windows" on the new EP – I'll be playing it live at shows before the record comes out. THIS is home – Big Sur.
If there was ever a time to come visit Big Sur/ Carmel, it's the weekend of Saturday May 21st.  I'll be doing a very special show at Carmel's beautiful outdoor amphitheater – the Forest Theater.  Tickets available HERE. (Click on "Music in the Forest" through Pac Rep website)  Wine provided by Galante Vineyards- portion of the proceeds to be donated to Guitars not Guns: Monterey County Chapter.  If anyone wants to go hiking the next day, I'm happy to organize one.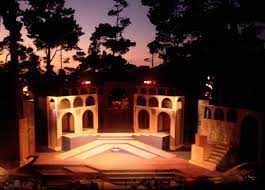 WHAT ABOUT YOU?
Please let me know how YOU are, what music you are listening to these days and your tips for raising teenagers (click the contact page!). Jette & Perry are turning 13 in a couple of weeks – they are amazing, wonderful, brilliant and mostly functioning hot messes.   They are my teachers in this life, and I am so lucky to be their mom.  And wow does it make me miss MY mom.   My angel mama leaves me feathers and wisdom in the wind.   Chip is doing great – he has created a beautiful home studio where we can both create.  I'm hoping for a new Bella Portal CD from him in the near future.  He is also collaborating with his longtime musical partner/genius Gregory Markel in their band, All in Your Head ("AIYH").
Thanks for reading! I have a new email platform through MailChimp, and you can subscribe HERE.  As always, if you ever want off the ride, just let me know – no harm, no foul.
For those of you who have stuck with me through the years, I am forever grateful for your support.
Sending you a big hug from Big Sur,
Cindy aka pnut