NEW RECORD
Yes, I make a big mess and make art out of it.  And I can finally share that with you!  MESSY came out July 21st and people have some nice things to say about it!  You can listen HERE and purchase the CD and limited edition merch HERE.
"Alexander's ten-song book "Messy" is one of her more edgy, yet it's artfully sequenced with a variety of styles that shows off her gorgeous vocal abilities. The songs reflect many sides of her personality, from cheeky observer to deeply introspective philosopher. And the song forms and production artistry elevate the music to a very high level."
– Beth Peerless, Monterey Herald.
"If something is different about Cindy Alexander, it's not the power of her lyrics. The singer-songwriter, who has held on to the edgy credibility of an emerging artist through 10 previous albums, has crafted something anthemic, infused with pop yet true to herself.
The sound may represent a departure, but Alexander's lyrics remain defiant, honest, bitter and sweet, with jabs of humor that compel listeners to hone in on her words and know the something that is presented."
-Dave Faries, Monterey Weekly
My new hometown is embracing the record, and our local radio station KSQD is spinning multiple tracks, including "Messy," "Candlelight" and "House without Windows."
I LOVED making this record for you, and can't wait to hear what songs resonate with YOU, personally.  Please send me an email!
GRATITUDE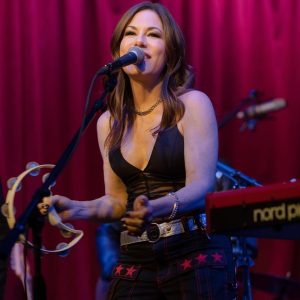 I've been so busy parenting, touring and trying to keep up on my social media that I was way over-due for checking in here on my own website!  I have said to myself many times over the summer that it would be so much easier JUST to sing and write songs.  But, this is the life of an indie artist:  we have to run a business, dot the i's and cross the t's, make travel reservations, find the lost guitar pics, and do all of the things that are NOT creative so that we can BE creative.  All this keeps me grounded, humble and overwhelmed.  I am truly grateful to the team at KZZ Music and Blue Elan Records, my manager Dave and the outside consultants who keep nudging me back on track when I venture off the path.  I am so blessed to be able to make music.  This week I am 10 YEARS cancer free!
ON TOUR
I'm adding new tour dates often, so make sure to follow me on
Bands in Town
or
Songkick
(or check in here) for the latest tour schedule.  I'm excited to announce that I'll be back with my dear friends, The Bacon Brothers for dates in Texas, PA, and VA in the Fall, with my own headlining dates sprinkled in between.  I continue to book house concerts across the US, so reach out if you're interested!
Thank you for stopping by.
Love,
Cindy