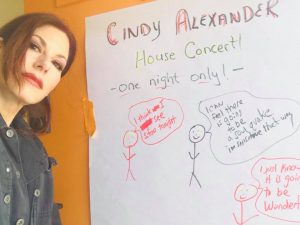 Over the summer, I performed for Seth & Tony's House Concert series.   Not only did I enjoy L.A.'s finest taco cart and eat cake with my picture on it,  I made some new friends in a community that enjoys and supports independent live music.  When I heard that Kevin Fisher was going to be entertaining at the next concert, I quickly bought a ticket.
Let's backtrack….  Before I played my first show back in the 90's, I used to hang out at Genghis Cohen on Fairfax Avenue and learn by watching L.A.'s finest singer-songwriters.  Some of my favorites were Vonda Shepard (whom I've opened for several times over the last 20 years), Dan Bern, Danny Peck, Kevin Montgomery (who became a dear friend) and Naked to the World.  Kevin Fisher was the lead singer and songwriter of Naked to the World, and to this day, some of his songs are indelibly stuck in my brain.  We orbited in the same circles but never really connected until the night I went to his show at Seth & Tony's.  As I remembered, his songs were poignant, funny and super smart.  We chatted after the show and made a date to try to co-write a holiday tune.  I had it in my head that I wanted to have something to release before the end of the year for my fans.
My first co-write with Kevin yielded the tune "Christmas in the Ordinary."  It came fast and easily, and we decided to keep going!  In a p-nutshell, Kevin and I share similar backgrounds and values, and swim in the same head space.  On a whim, we created a side duo project and we've dubbed ourselves…. The Humming Bards.  Our first collaboration is a completely fan funded holiday EP called "Holy Common Ground."   It's a collection of songs for Everyone- "whatever you believe, whatever road you're on."    I hope you get a chance to listen to it!  The EP releases November 16th on my own JamCat Records.  There are only a few limited edition, autographed physical copies available in my store, but you can also download it from iTunes on 11/16.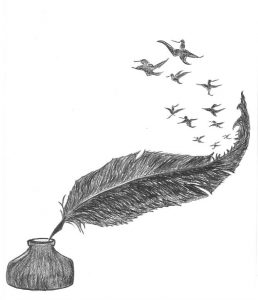 We'd like The Humming Bards facebook page to be a community that fosters and inspires creativity.  We were so touched when the gifted Lynanne Petroff  (@LynannePetroff) posted her artwork inspired by one of our online concerts.   (If you've never checked out my live Concert Window broadcasts, please do!  Be sure to register so you can participate in the live chats.  Most shows are free or "pay what you can. www.concertwindow.com/cindyalexander.  Next show is December 2, 2018.)
Kevin and I are scheduling house concerts for 2019.  We will be performing our own material plus the new songs we've written (and continue to write) for The Humming Bards.   Please email me (cindy@cindyalexander.com) if you are interested in hosting!
Wishing you all a beautiful holiday season ahead. With much love and gratitude,
Cindy aka pnut