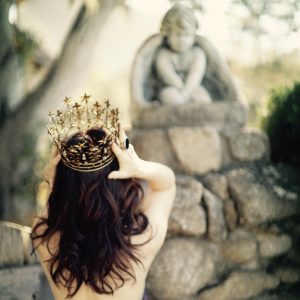 My records are all creative births. They are the inspired and crafted musical poems and stories that encapsulate a certain period of time in my life. They are raised by a village – the band, producers, engineers and the team at the record label. And when the time is right, they are released out into the world, where they will grow, change, and form new attachments. If you happen to hold my baby, I hope you listen with your heart. She laughs, cries, and sings to you, and for you.
I hope you have had a chance to listen to While the Angels Sigh, which was released April 23rd. Autographed copies and merchandise are available from the Blue Élan store, and you can stream it on all major digital platforms. One of the most enjoyable aspects of this particular release has been my collaborations born of necessity. Since I haven't been able to tour to promote the record, I decided to create content for the internet to support the release. I have hired wonderful dancers, actors, film makers, animators, and directors from all over the world to create video/visualizer companion pieces for each song on the record. I am truly enjoying this form of enhanced expression of the music, and I hope you do too! Please subscribe to my YouTube channel and check them out!
I was FINALLY able to perform live for an audience of 1 person + 2 camera operators and a video director for my CD release live stream. And in the first time in over a year, I was joined on stage by 2 other people – my new friend, Jesse DeCarlo (who lives near my new home in Carmel Highlands), and my long time writing partner/band mate, Paul Trudeau, who traveled up from Los Angeles. Now fully vaccinated, I can't begin to tell you how good it feels to make music with other people. I look forward to the world continuing to open up so that we can all gather again, and give each other much needed hugs!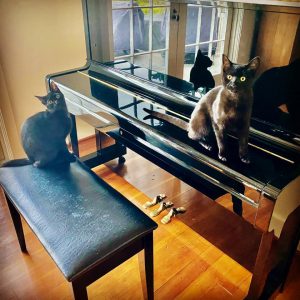 I've been lavishing my extra affection onto my newly adopted kittens, Pebbles & Bam Bam. My 12 year old twins are finally back in school so thankfully, I can cross home school off the task list. I just need to teach my fur twins to stop destroying my furniture!
Lately, I've been spending more time out doors, exploring Big Sur and Carmel. I am very inspired by my new surroundings and the shift in perspective over the last year and a half. I'll be sharing the new songs in the Pnut Gallery on Patreon.
I hope you and yours are well. I do love hearing from you – drop me a note (cindy@cindyalexander.com) and let me know how you've been and what music is resonating with you lately! I've opened up the tour book for 2022 and welcome your ideas. House Concerts and intimate shows are my favorite – let's make them happen! Thanks for all of your support.
Love,
Cindy