OK, I admit…it's been awhile.  Rather than posting here, I've been draining my brain on Patreon – writing and recording a record in front of the Pnut Gallery and virtually "quaranteaming" in that little corner of cyberspace.  If you ever want to get into the minutia and check it out, it's HERE.
So where have I been the last year?  To catch you up, here is the short version:
Song selection and producer selection for my upcoming record took a VERY long time – a huge emotional roller coaster for me.  Meanwhile, behind the scenes, I was driving back and forth from L.A. to Palm Desert to take care of my Mom, who was battling a rare form of Alzheimer's/dementia called Posterior Cortical Atrophy with Lewy Body Disease.
I finally started recording a year ago October '19 with a dream team (think of the amazing musicians behind Alanis Morisette's latest record, Kacey Musgraves, Lana Del Rey, etc…) – Sean Hurley, Victor Indrizzo, David Levita and Mike Farrell.  Sean and Vic sat in the producer's seat and led a very collaborative recording process.  Most of it was streamed live for the Pnut Gallery! We finished 8 tracks and then I spent a couple months recording vocals at home.
My work was continuously put on hold.  Those of you who know me, know that my family comes first.  Mom's disease was progressing rapidly and over Thanksgiving, she broke her hip.  In addition, my ability to care for anyone was halted for a few weeks in late January/ early February by some "mysterious virus."  Later, we figured it was probably Covid-19.   I started on track 9 with Ross Hogarth – our last day in the studio was March 12, just before the country shut down.
Overnight, I became a 5th grade school teacher – supervising my kids on zoom school.  We were on full lock down.  I broke quarantine only to see my parents, and be with my Mom for hospice.  My Mom passed away on May 26, and it can only be described as a watershed event in my life.  I go into detail about it in my Patreon blog.
It's only recently that I've been able to be creatively productive again.  I worked with Sean & the Dream Team, passing around tracks between our home studio to finish up a new song, and then wrote another song which I recorded just as a piano vocal.  Ross and I got back to work this month and we are almost finished with one of my favorite songs on the record – just waiting for the back up vocal stylings of Bernie Barlow to put the cherry on top.  Time to finish the artwork.
But, I must digress! I have left out an important part of the story!  After Mom died, something shifted in me.  We all have those dreams that we put aside for "some day."  Well, I finally decided that some day is NOW.  My family and I picked up and moved to Carmel Highlands – a slice of heaven at the top of Big Sur, my favorite place on earth.  Born and raised in Los Angeles, I was witnessing a city becoming a stranger to me.  The anxiety of the pandemic, the riots, the fires, a steep rise in crime…all of that figured into our decision.  I wanted to find a place where we could all breathe again.  And I did.
From a song I just wrote:
Someday's now
Someday's when
We decide to start all over again
And take the road that leads True North
I hear a calling
From a sacred mountain high
300 miles from a life I leave behind
There's no guarantee, except maybe…True North
I cried to Mother Nature
My orphan soul's in danger
Certain of my mission
She held me in submission
And whispered in my ear
Welcome home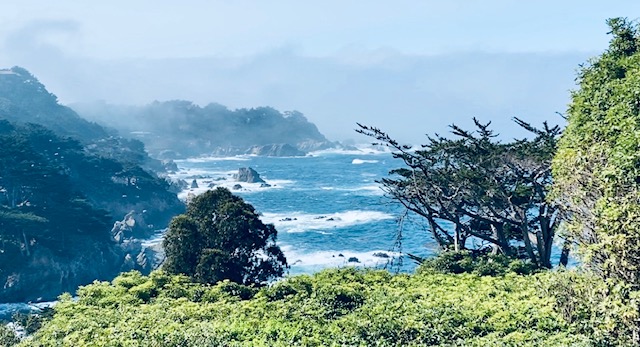 There is so much more to tell, but I'll save it for later.  New Music coming soon.  In the meantime, please stay safe, be well, and if you have time, visit me in the Pnut Gallery.
And please vote.
With love,
Cindy aka Pnut